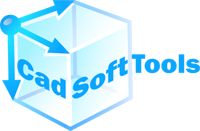 © CADSoftTools 2018
Contacts:
E-mail: info@cadsofttools.com
WWW: www.cadsofttools.com
Phone: 1-800-469-9789
All rights reserved
What is ABViewer
ABViewer is a high-quality, cost-efficient multi-functional design and engineering document management application. ABViewer offers you a wide choice of professional viewing and editing tools. Support of more than 30 both raster and vector formats is provided, including AutoCAD DWG, DXF, DWF, Hewlett-Packard HPGL, PLT, HGL, CGM, SVG, IGES/IGS, STEP/STP, STL, 3DS, TIFF, BMP, JPG, GIF etc.
For the latest information on ABViewer and other Soft Gold Ltd. products please visit our web site www.cadsofttools.com.